Naitauba Solar Power - Milestone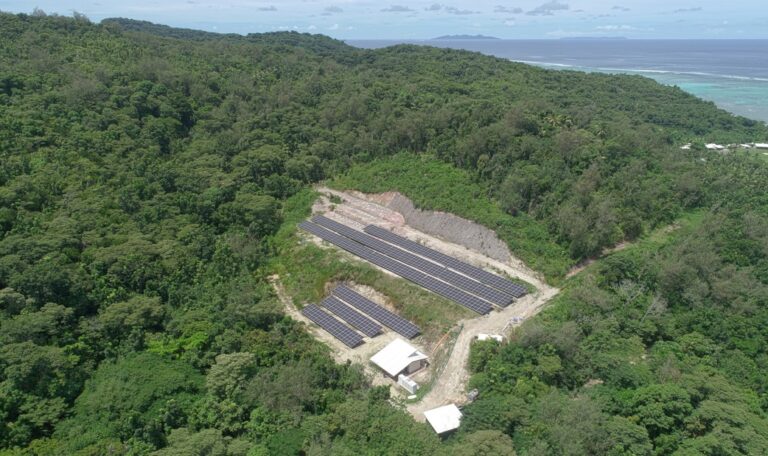 At Naitauba Island we are committed to developing sustainable energy to reduce our dependence on fossil fuels and help reduce Fiji's carbon footprint. Our goal is to develop solar electric power generation to entirely replace diesel power, except as emergency backup. Energy self-sufficiency also means energy security: reliance on diesel fuel leaves Naitauba vulnerable to fluctuations in fuel supply and cost, since the outlying islands of Fiji are at the end of a long supply chain.
In May 2022, a major milestone was reached when a new solar system was brought online to provide electricity for Qaravi, the main village for devotee residents, and the staff residential complex at Ciqomi. These locations are the largest users of electricity on the island.
Since June—the first four months of its operation—the new system has provided electricity for Qaravi and Ciqomi continuously, day and night, with the backup diesel generators only being required for less than six hours due to cloudiness. The result has been a dramatic reduction in fuel consumption on Naitauba: while diesel fuel is still needed for two other locations and boats and vehicles, the new solar system, together with a smaller one installed previously, has reduced diesel usage by 70%.
The system was designed and commissioned by Clay Energy in Suva, Fiji, with the help of Mike Dorsett, our technical advisor.

Work has now begun to convert the island's two remaining diesel-generator locations to solar power, including the Matrix, the temple complex on the east side of the island.
This new state-of-the-art solar power system will generate carbon-free electricity for Naitauba for many years to come.